THE FESTIVAL
PROGRAM
NIPPON CINEMA
CINEMA AWARD
NIPPON DIGITAL
DIGITAL AWARD
NIPPON RETRO
NIPPON CULTURE
TIMETABLE
TICKETS
LOCATIONS
ON TOUR
KIOSK
PRESS
LINKS
CONTACT
ARCHIVE

NEWS
Newsarchive
Newsletter
YouTube


Twitter Updates


Facebook


Nippon-Blog


NIPPON RETRO
Tokyo Godfathers
by Satoshi KON
The most accomplished film by the philosophical genius of the anime genre, Satoshi KON. Three homeless people go on a breathtaking postmodern odyssey through one of the most amazingly rendered cityscapes ever produced in animation.
Credits:
Japan 2003, 35mm, 92 min, Japanese with German subtitles
Director: Satoshi KON
Co-director: Shogo FURUYA
Writers: Satoshi KON, Keiko NOBUMOTO
Production: Tokyo Godfathers Production Committee, Mad House
Director of photography: Katsutoshi SUGAI
Music: Moonriders, Keiichi SUZUKI
German distribution: Kairos Filmverleih
Voice talents: Toru EMORI, Aya OKAMOTO, Yoshiaki UMEGAKI, Shozo IZUKA
About the director: Satoshi KON, born in 1963, made his debut as comic artist but soon found his way into animation. He first attracted attention working as sctipt writer and background artist on MEMORIES (Katsuhiro OTOMO).
Filmography: 1998 Perfect Blue (NC 00); 2001 Millennium Actress (Sennen joyu); 2006 Paprika (NC 07); 2010 The Dreaming Machine (Yumemiru kikai)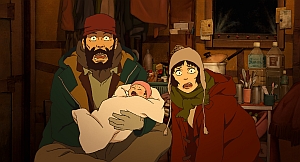 Thursday, April 15, 8 p.m. Cinema Mal Seh'n