THE FESTIVAL
PROGRAM
NIPPON CINEMA
CINEMA AWARD
NIPPON DIGITAL
DIGITAL AWARD
NIPPON RETRO
NIPPON CULTURE
TIMETABLE
TICKETS
LOCATIONS
ON TOUR
KIOSK
PRESS
LINKS
CONTACT
ARCHIVE

NEWS
Newsarchive
Newsletter
YouTube


Twitter Updates


Facebook


Nippon-Blog


NIPPON RETRO
The Tender Throbbing Twilight
(Tasogare / Ikutsu ni natte mo yaritai otoko to onna)
by Shinji IMAOKA
Funakichi is well over sixty, but still horny and getting into trouble. At a class reunion he meets his first love again, and now things get serious … This film will touch your heart and blow your mind with its roller coaster of emotions and absurdities.
Credits:
Japan 2007, 35mm, 64 min, Japanese with English subtitles
Director: Shinji IMAOKA
Writer: Akira TANIGUCHI
Production: Kokuei, Shintoho, V-Aradise
Director of photography: Issaku MAEI
Music: Bito
German distribution: Rapid Eye Movies
Cast: Masaru TAGA, Yasuko NAMIKIBASHI, Kyoko HAYAMI, Kenji YOSHIOKA
About the director: Shinji IAMOKA is one of the «7 Lucky Gods» of Pink Film, a generation of young directors that have turned genre conventions upside down.
Filmography (selection): 1999 Despite All That (Gushonure hitozuma kyoshi - seifuke de daite); 2004 Lunch Box (Tamamono / NC 04); 2006 Uncle′s Paradise (Ojisan tengoku / NC 07); 2009 Kemono no majimwari: Tenshi to yaru / Daydream (Hakujitsumu)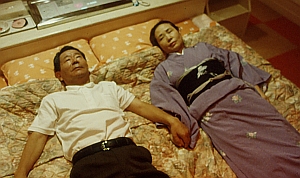 Saturday, April 17, 10 p.m. Cinema Mal Seh'n