THE FESTIVAL
PROGRAM
NIPPON CINEMA
CINEMA AWARD
NIPPON DIGITAL
DIGITAL AWARD
NIPPON RETRO
NIPPON CULTURE
TIMETABLE
TICKETS
LOCATIONS
ON TOUR
KIOSK
PRESS
LINKS
CONTACT
ARCHIVE

NEWS
Newsarchive
Newsletter
YouTube


Twitter Updates


Facebook


Nippon-Blog


NIPPON RETRO
Love Exposure
(Ai no mukidashi)
by Sion SONO
Committing sins in order to confess them, Yu is trapped between his devotion to the man-hating schoolgirl Yoko and the schemes of a bizarre religious cult. The manically complex and frighteningly entertaining story of Yu and his epic journey to the centre of love.
Credits:
Japan 2008, 35mm, 237 min, Japanese with German subtitles
Director & writer: Sion SONO
Production: Omega Project, Ltd.; An Entertainment Inc.; Studio Three Co., Ltd.
Director of photography: Sohei TANIGAWA
Music: Tomohide HARADA
German distribution: Rapid Eye Movies
Cast: Takahiro NISHIJIMA, Hikari MATSUSHIMA, Sakura ANDO, Makiko WATANABE, Hiroyuki ONOUE
About the director: Sion SONO, born 1961, was already a famous poet at age 17. After winning first prize at the PIA film festival in 1987 he began to work in film. Already a well-known figure at international festivals he made is commerical breakthrough with SUICIDE CIRCLE.
Filmography (selection): 1992 Heya; 2002 Suicide Circle (Jisatsu sakuru); 2005 Noriko's Dinner Table (Noriko no shokutaku / NC 07); 2007 Exte: Hair Extensions (Ekusete); 2009 Be Sure to Share (Chanto tsutaeru)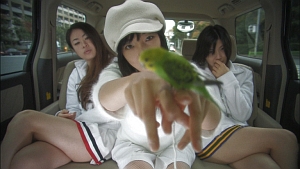 Sunday, April 18, 7:30 p.m. Cinema Mal Seh'n