THE FESTIVAL
PROGRAM
NIPPON CINEMA
CINEMA AWARD
NIPPON DIGITAL
DIGITAL AWARD
NIPPON RETRO
NIPPON CULTURE
TIMETABLE
TICKETS
LOCATIONS
ON TOUR
KIOSK
PRESS
LINKS
CONTACT
ARCHIVE

NEWS
Newsarchive
Newsletter
YouTube


Twitter Updates


Facebook


Nippon-Blog


NIPPON RETRO
Dolls
by Takeshi KITANO
Three tragic love stories connected by the theme of the Japanese Bunraku puppet theatre: An ex-couple, a pop-starlet and her fan, an old Yakuza and his early love. KITANO´s film swerves away from his earlier works in an aesthetically radical way.
Credits:
Japan 2002, 35mm, 113 min, Japanese with German subtitles
Director & writer: Takeshi KITANO
Production: Office Kitano Inc.
Director of photography: Katsumi YANAGIJIMA
Music: Jo HISAISHI
German distribution: Rapid Eye Movies
Cast: Miho KANNO, Hidetoshi NISHIJIMA, Tatsuya MIHASHI, Chieko MATSUBARA
About the director: Takeshi KITANO became famous as a comedien and show host. He writes novels, draws Mangas and is probably the most internationally noted Japanese director of the present. In Venice he received the Golden Lion for his movie HANA-BI.
Filmography (selection): 1989 Violent Cop; 1990 Boiling Point; 1993 Sonatine; 1996 Kids Return; 1997 Hana-Bi; 1999 Kikujiro Returns (Kikujiro no natsu); 2000 Brother; 2003 Zatoichi (NC 04); 2005 Takeshis; 2008 Achilles and the Tortoise (Akiresu to kame); 2010 Outrage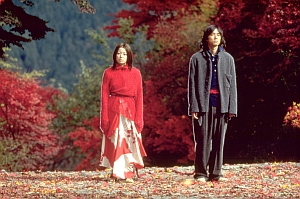 Sunday, April 18, 1 p.m. Cinema Mal Seh'n