THE FESTIVAL
PROGRAM
NIPPON CINEMA
CINEMA AWARD
NIPPON DIGITAL
DIGITAL AWARD
NIPPON RETRO
NIPPON CULTURE
TIMETABLE
TICKETS
LOCATIONS
ON TOUR
KIOSK
PRESS
LINKS
CONTACT
ARCHIVE

NEWS
Newsarchive
Newsletter
YouTube


Twitter Updates


Facebook


Nippon-Blog


NIPPON DIGITAL
8000 Miles - SR Saitama's Rapper
(SR: Saitama no rapper)
by Yu IRIE
Ikku, Mighty and Tom lead an unbearably dull life in the small town of Fukuyama. The three misfits' only passion is their rap band called 'Sho Gung'. Through confronted with an unpromising future, Ikku can't abandon his dream of a musical career.
Credits:
Japan 2008, video, 80 min, Japanese with English subtitles
Director & writer: Yu IRIE
Director of photography: Kazuhiro MIURA
Music: Taisei IWASAKI
Production & Weltvertrieb: Dongyu Club & Inc
Cast: Ryusuke KOMAKINE, MIHIRO, Shingo MIZUSAWA, Eita OKUNO, Hikohiko SUGIYAMA
About the director:
Yu IRIE, born in 1979, established his own production firm shortly after graduating from Nihon University College of Art. His film 8000 Miles – for which he received the young talent award at the Japanese guild of directors - was a sensational success.
Filmography:
2006 Japonica Virus; 2007 Cream Lemon 7 (Kurimu remon: madoru); 2008 Spy Girls; 2010 8000 Miles 2 - Girls Rapper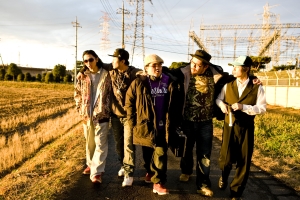 Wednesday, April 14 8:15 p.m. Festival Centre
European premiere in the presence of the director
NDA