THE FESTIVAL
PROGRAM
NIPPON CINEMA
CINEMA AWARD
NIPPON DIGITAL
DIGITAL AWARD
NIPPON RETRO
NIPPON CULTURE
TIMETABLE
TICKETS
LOCATIONS
ON TOUR
KIOSK
PRESS
LINKS
CONTACT
ARCHIVE

NEWS
Newsarchive
Newsletter
YouTube


Twitter Updates


Facebook


Nippon-Blog


NIPPON DIGITAL
Yohei SUZUKI Special
Yohei SUZUKI is one of the youngest directors in this year's program, but his films have already been screened at the well-known CREAM Yokohama festival for Arts & Media. Treading a fine line between documentary and experimentalism, Suzuki's films develop a dark attraction enriched by black humour.
Amateur Hour
(Shirouto awaa)
An experimental reconstruction of adult video shoot catastrophes, this film presents a variety of weird characters and situations.
Credits:
Japan 2008, video, 52 min, Japanese with English subtitles
Director, writer & editor: Yohei SUZUKI
Sound: Ruiki AOKI
Cast: Yuya MATSUURA, Mutsuo YOSHIOKA, Hozomi YOSHIDA
Killed in the Air
(Kuuki ni korosareru)
In his unique, cool style combining experimental film and documentary, SUZUKI follows various characters in their everyday life, creating an atmosphere of ever growing tension.
Credits:
Japan 2006, video, 40 min, Japanese with English subtitles
Director & writer: Yohei SUZUKI
Production: Kuki Eiga Productions
Director of photography: Emiri MORITA, Sachiko NAGATOMO
Cast: Hakucho YAMAMOTO, Kozue MIDORIKAWA, Jiyuu IKEGAMI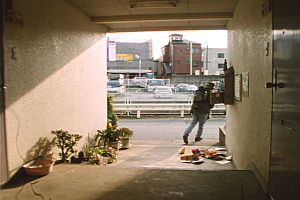 Thursday, April 15, 6 p.m. Festival Centre
German premiere