THE FESTIVAL
PROGRAM
NIPPON CINEMA
CINEMA AWARD
NIPPON DIGITAL
DIGITAL AWARD
NIPPON RETRO
NIPPON CULTURE
TIMETABLE
TICKETS
LOCATIONS
ON TOUR
KIOSK
PRESS
LINKS
CONTACT
ARCHIVE

NEWS
Newsarchive
Newsletter
YouTube


Twitter Updates


Facebook


Nippon-Blog


NIPPON DIGITAL
USB
by Shutaro OKU
After his father died Yuichiro, a resigned loner, leads a numb and pointless life. Shutaru OKU confronts the viewer with a protagonist whose bitterness can only be penetrated by nuclear radiation.
Credits:
Japan 2009, video, 95 min, Japanese with English subtitles
Director, writer & world sales: Shutaro OKU
Production: M6 TRANCE PICTURE WORKS
Director of photography: Yonaha MASAYUKI
Cast: Kazushi WATANABE, Kaori MOMOI, Kazunobu MINETA, Nao OMORI, Ren OSUGI
About the director:
Shintaro OKU, born 1975, began his career in 1996 as production designer for theatre, ballet and musical were he soon had great success. Since 2002 he is working with digital film to explore new artistic expressions.
Filmography (selection):
2002 Kai On / Labor Cop (Hiyatoi deka); 2003 Japanese Naked Tribe (Nihon no razoku); 2004 Aka-Sen; 2006 Cain's Descendant (Kain no matsuei); 2008 Death of Donomata (Domomata no shi)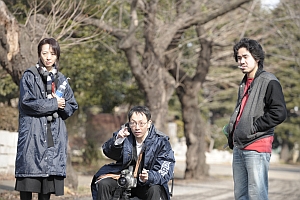 Thursday, April 15 2:30 p.m. Festival Centre
European premiere
NDA