THE FESTIVAL
PROGRAM
NIPPON CINEMA
CINEMA AWARD
NIPPON DIGITAL
DIGITAL AWARD
NIPPON RETRO
NIPPON CULTURE
TIMETABLE
TICKETS
LOCATIONS
ON TOUR
KIOSK
PRESS
LINKS
CONTACT
ARCHIVE

NEWS
Newsarchive
Newsletter
YouTube


Twitter Updates


Facebook


Nippon-Blog


NIPPON DIGITAL
Shozin FUKUI Special
Shozin FUKUI, born in 1961, is regarded as the cyberpunk icon of Japan and has already worked with such directors as Sogo ISHII and Shinya TSUKAMOTO. His eccentric works have gained a cult status and have been compared to the films of Cronenberg and Lynch.
the hiding
Narumi lives in fear of her ex-boyfriend, but when a mysterious woman named Aiko breaks into her apartment, her problems take an unexpected twist. Reality itself seems to fall apart …
Credits:
Japan 2008, video, 40 min, Japanese with English subtitles
Director, writer & editor: Shozin FUKUI
Production: Akio ENDO, Eitaro TOMORI
Director of photography: Shu KAGEYAMA
World sales: Shozin FUKUI
Cast: Makiko MIZOTE, Aiko SAKAMOTO, Shinichi YONEZAWA
German Premiere
www.honekoubou.jp/en/hiding.html
S-94
Miu and Ice lead a desperate life in an old bunker. The two women are the sole survivors of a deadly virus pandemic that caused a cruel death for humankind. Shozin FUKUI presents a brutal and dark vision of experimental images and sounds.
Credits:
Japan 2009, video, 29 min, Japanese with English subtitles
Director, writer & editor: Shozin FUKUI
Production: Eitaro TOMORI
Director of photography: Shu KAGEYAMA
World sales: Shozin FUKUI
Cast: Nosomi HATSUKI, Yuki TATSUSHIMA, Yuya ISHIKAWA
European premiere
Filmography (shorts and full lenght films): 1986 Metal Days / Gerorisuto; 1988 Caterpillar (Kyatapira); 1991 Pinocchio 964; 1996 Rubber's Lover; 2007 No Way Out (Derenai)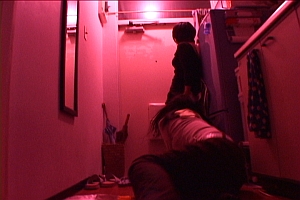 Wednesday, April 14, 10 p.m. Festival Centre