THE FESTIVAL
PROGRAM
NIPPON CINEMA
CINEMA AWARD
NIPPON DIGITAL
DIGITAL AWARD
NIPPON RETRO
NIPPON CULTURE
TIMETABLE
TICKETS
LOCATIONS
ON TOUR
KIOSK
PRESS
LINKS
CONTACT
ARCHIVE

NEWS
Newsarchive
Newsletter
YouTube


Twitter Updates


Facebook


Nippon-Blog


NIPPON DIGITAL
Autumn Adagio
(Fuwaku no Adagio) by Tsuki INOUE
"People rejoice, the bright hope of Japanese cinema has made her first feature film. Placid on the surface, AUTUMN ADAGIO's languid restraint hides the same condensed intensity that characterised Tsuki INOUE's marvelous short THE WOMAN WHO IS BEATING THE EARTH. A movie that flows, until it erupts." Tom Mes, MidnightEye.com
Guest curator: Tom Mes (Midnighteye.com)
Credits:
Japan 2009, video, 70 min, Japanese with English subtitles Regie & Drehbuch: Tsuki INOUE
Production: Dongyu Club
Director of photography: Yohei OMORI
Music: Rei SHIBAKUSA
World sales: Pictures Dept.
Cast: Rei SHIBAKUSA, Peyton CHIBA, Takuo SHIBUYA, Rumi TACHIBANA, Kazuhiro NISHIJIMA
About the director:
Tsuki INOUE, born 1974, studied art and ballet at Musashino art college. She won several awards for her short movie THE WOMAN WHO IS BEATING THE EARTH.
Filmography (shorts):
2004 Akatsuki no hana; 2005 Mademoiselle Audrey; 2006 Hiromi; 2007 The Woman Who is Beating the Earth (NC 09)
Short: Mademoiselle Audrey
A danseuse before her last performance. Another beautiful film about aging directed by Tsuki INOUE, again starring the wonderful Rei SHIBAKUSA.
Credits:
Japan 2005, Director & writer: Tsuki INOUE, cast: Rei SHIBAKUSA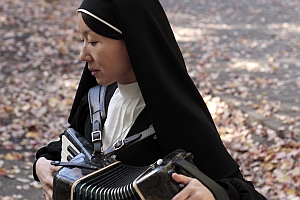 Sunday, April 18, 2 p.m. Festival Centre
Germany premiere
NDA