THE FESTIVAL
PROGRAM
NIPPON CINEMA
CINEMA AWARD
NIPPON DIGITAL
DIGITAL AWARD
NIPPON RETRO
NIPPON CULTURE
TIMETABLE
TICKETS
LOCATIONS
ON TOUR
KIOSK
PRESS
LINKS
CONTACT
ARCHIVE

NEWS
Newsarchive
Newsletter
YouTube


Twitter Updates


Facebook


Nippon-Blog


NIPPON DIGITAL
Lost Girl
(Rosto gaaru) by Daisuke YAMAOKA
With exquisite delicacies, Daichi tries to lure his wife Ryoko out of the closet. Daisuke YAMAOKA follows the stumbling of Ryoko and Daichi in the chaos of anxiety, frustration and wounded pride in a laconic and playful way.
Credits:
Japan 2009, video, 63 min, Japanese with English subtitles
Director & writer: Daisuke YAMAOKA
Production: Mountain Cross, Itd
Director of photography: Masayoshi KUNIMATSU
World sales: Daisuke YAMAOKA
About the director:
Daisuke YAMAOKA was born in Shizuoka and studied at the Kannagawa University. With his first short film he won several prestigious awards. Before delivering his feature film debut LOST GIRLS he worked mostly in film production.

Filmography (shorts, selection):
2000 Only Death Can Save the Fool (Baka wa shinanakya naoranai); 2001 Let me Thank You (Kimi ni arigatou); 2004 Mika and Seijun (Mika to seijun)
Short: SIX

Six people meet at the legendary Tokyo filmbar "La Jetée". There is only one topic: where is "Mama-san", the owner?
Directors: Guillaume Giovanetti, Çagla Zencirci
France / Japan 2009, 28 min, video, Japanese with English subtitles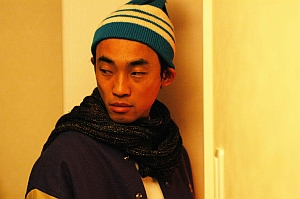 Saturday, Apirl 17 8:15 p.m. Festival Centre
German premiere
NDA