THE FESTIVAL
PROGRAM
NIPPON CINEMA
CINEMA AWARD
NIPPON DIGITAL
DIGITAL AWARD
NIPPON RETRO
NIPPON CULTURE
TIMETABLE
TICKETS
LOCATIONS
ON TOUR
KIOSK
PRESS
LINKS
CONTACT
ARCHIVE

NEWS
Newsarchive
Newsletter
YouTube


Twitter Updates


Facebook


Nippon-Blog


NIPPON DIGITAL
Aru Ongaku – A Music
(Aruongaku) by Takashi TOMOHISA
What is music? What is art? What is happening in the very moment when the music is created? TAKAGI and musicians who worked with him have pursued these questions earnestly. ARUONGAKU is a visually stunning documentary film showing TAKAGI's projects.
Credits:
Japan 2009, HD, 72 min, Japanese with English subtitles
Director: Takashi TOMOHISA
Production & World sales: Epiphany Works
Music & visuals: Masakatsu TAKAGI
Cast: Masakatsu TAKAGI, Haruka TAGUCHI, Jadranka, Takashi MATSUDAIRA, Yoko KUMAZAWA
About the director:
Takashi TOMOHISA, born in 1976 in Kobe, studied at Kobe City University. At the Pia film festival he won several awards for his short films SPRING TIME STORY and GOING TO PARADISE AT NIGHT.
Filmography (short films, selection):
2001 Spring Time Story (Shutenri) / Going to Paradise at Night (Yoru wa paradise e iku); 2006 18 Portraits of Atlas; 2007 Tidal / Philharmonie; 2008 Lava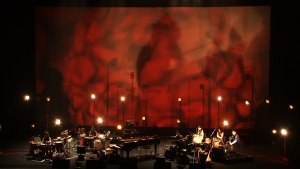 Sunday, April 18 6 p.m. Festival Centre
European premiere
NDA