THE FESTIVAL
PROGRAM
NIPPON CINEMA
CINEMA AWARD
NIPPON DIGITAL
DIGITAL AWARD
NIPPON RETRO
NIPPON CULTURE
TIMETABLE
TICKETS
LOCATIONS
ON TOUR
KIOSK
PRESS
LINKS
CONTACT
ARCHIVE

NEWS
Newsarchive
Newsletter
YouTube


Twitter Updates


Facebook


Nippon-Blog


NIPPON CULTURE
Shiatsu
Workshop and Treatment
Shiatsu (Japanese for finger pressure) is a Japanese treatment method regulating the energy flow in our bodies by soft pressure along the energy channels (meridians). Two experienced therapists who have their own practice in Frankfurt will offer relaxing massages before, between and after the screenings at the festival. Moreover, there is a chance to try out this Japanese form of acupressure massage for yourself in a workshop. Even with simple techniques such as hand pressure and body exercises, you will feel the relaxing effect of shiatsu.
Contact:
Annette Diefenthal, phone: 069 / 40353563, AnnetteDiefenthal@web.de
Klaus Steinmetz, phone: 069 / 7073211, www.shiatsu-frankfurt.de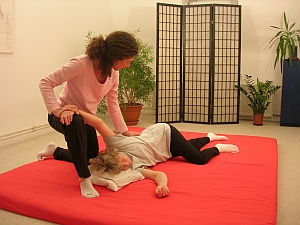 Workshop:
Thursday, April 15, 6 to 8 p.m., Festival Centre, room K2
Please bring comfortable clothes and a blanket.
Limited admission!
Treatment:
Friday, April 16, 6 to 9 p.m., Saturday, April 17 & Sunday, April 18, 3 to 8 p.m.
Festival Centre, second floor