THE FESTIVAL
PROGRAM
NIPPON CINEMA
CINEMA AWARD
NIPPON DIGITAL
DIGITAL AWARD
NIPPON RETRO
NIPPON CULTURE
TIMETABLE
TICKETS
LOCATIONS
ON TOUR
KIOSK
PRESS
LINKS
CONTACT
ARCHIVE

NEWS
Newsarchive
Newsletter
YouTube


Twitter Updates


Facebook


Nippon-Blog


NIPPON CINEMA
Toad's Oil
(Gama no abura)
by Koji YAKUSHO
It seems to be a more or less normal family, apart from the fact that Takuya as the son seems to be more mature than his father, and maybe their house is a bit exaggerated. When Takuya falls into a coma after an accident, his dad answers his mobile and talks to Hikari, Takuyas girlfriend, and a weird story begins. Koji YAKUSHO's directing debut tells a story about a very unusual but alleviating way of mourning.
Credits:
Japan 2009, 35mm, 131 min, Japanese with English subtitles
Director: Koji YAKUSHO
Writer: URARA
Production: Pyramid Film Production
Director of photography: Toyomichi KURITA
Music: Tablatura
World sales: Phantom Films Co Ltd.
Cast: Yakusho KOJI, Eita, Fumi NIKAIDO, Junichi SAWAYASHIKI, Satomi KOBAYASHI
About the director: Koji YAKUSHO, born in 1956 in Isahaya, had his international breakthrough as an actor in 1997 with Masayuki SUO's SHALL WE DANCE?. As early as 1989 he received his first Japanese Academy Award for UNDER AURORA. International awards soon followed for THE CURE, PARADISE LOST and THE EEL. TOAD's OIL is his directorial debut.
Filmography (as actor, selection): 1985 Tampopo; 1996 Shall We Dance?; 1997 Paradise Lost (Shitsurakuen) / The Eel (Unagi) / Cure; 1999 Charisma; 2000 Eureka; 2005 Die Geisha; 2008 Tokyo Sonata (NC 09)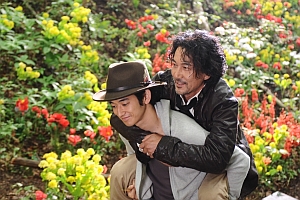 Friday, April 16, 7:45 p.m. Festival Centre
Saturday, April 17, 10 p.m. Cinema Orfeo's Erben
European premiere in the presence of the director
NCA
[Tickets] | [Timetable, April 16 ]
[Tickets] | [Timetable, April 17 ]