THE FESTIVAL
PROGRAM
NIPPON CINEMA
CINEMA AWARD
NIPPON DIGITAL
DIGITAL AWARD
NIPPON RETRO
NIPPON CULTURE
TIMETABLE
TICKETS
LOCATIONS
ON TOUR
KIOSK
PRESS
LINKS
CONTACT
ARCHIVE

NEWS
Newsarchive
Newsletter
YouTube


Twitter Updates


Facebook


Nippon-Blog


NIPPON CINEMA
The Blood of Rebirth
(Yomigaeru no chi)
by Toshiaki TOYODA
After being murdered by the Dark Lord, Oguri is sent back to this world on a journey to the source of life that culminates in an eccentric dissolution of all boundaries of human existence. Toshiaki TOYODA's re-debut after 4 years of absence from the cinematic screen.
Credits:
Japan 2009, 35mm, 83 min, Japanese with English subtitles
Director & writer: Toshiaki TOYODA
Production: MAZRI Inc.; MEDIA FACTORY, Inc.; TYO Inc.; Phantom Film Co., Ltd.; STUDIO SWAN (IMJ-E)
Director of photography: Toyotaro SHIGEMORI
Music: TWIN TAIL, Tatsuya NAKAMURA, Yuji KATSUI, Toshiyuki TERUI
World sales: Open Sesame Co., Ltd.
Cast: Tatsuya NAKAMURA, Mayuu KUSAKARI, Kiyohiko SHIBUKAWA, Hirofumi ARAI, Itsuji ITAO
About the director: Born in 1969 in Osaka, Toshiaki TOYODA started his film career in 1991 as a script writer for Junji SAKAMOTO. His directing debut PORNOSTAR (1998) has won several prestigious awards (e.g. Director's Association of Japan) und will be part of this year's NIPPON CONNECTION retrospective.
Filmography (selection): 1998 Pornostar (NC 00 / NC 10), 2000 Unchain, 2001 Blue Spring (Aoi haru/ NC 02 Nippon Connection Newcomer Award), 2003 Nine Souls (NC 04), 2005 Hanging Garden (Kuchu teien / NC 06)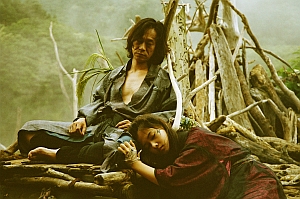 Friday, April 16, 10:15 p.m. Festival Centre
Saturday, April 18, 8:15 p.m. Cinema Orfeo's Erben
European premiere in the presence of the director
NCA
[Tickets] | [Timetable, April 16]
[Tickets] | [Timetable, April 18]