THE FESTIVAL
PROGRAM
NIPPON CINEMA
CINEMA AWARD
NIPPON DIGITAL
DIGITAL AWARD
NIPPON RETRO
NIPPON CULTURE
TIMETABLE
TICKETS
LOCATIONS
ON TOUR
KIOSK
PRESS
LINKS
CONTACT
ARCHIVE

NEWS
Newsarchive
Newsletter
YouTube


Twitter Updates


Facebook


Nippon-Blog


NIPPON CINEMA
Symbol
by Hitoshi MATSUMOTO
Being not exactly bright the hero in this absurd comedy tries his best to escape from a huge doorless room. In the meantime a mexican wrestler is preparing for a doomed fight. Between them there is an invisible connection. In his second masterpiece Japan's most famous comedian gives us action, slapstick, drama and a very stupid god.
Credits:
Japan 2009, HD, 93 min, Japanese with English subtitles
Director: Hitoshi MATSUMOTO
Writers: Hitoshi MATSUMOTO, Mitsuyoshi TAKASU
Production: Yoshimoto Kogyo
Director of photography: Yasuyuki TOYAMA
Music: Yasuaki SHIMIZU
World sales: UMedia
Cast: Hitoshi MATSUMOTO, David Quintero, Luis Accinelli, Lilion Tapia, Adriana Fricke
About the director: 46-year old Hitoshi MATSUMOTO is one of Japan's most famous comedians, next to Takeshi KITANO. In 1983 he had his stage debut with the 'Downtown' duo. SYMBOL is his first feature film.
Filmography: 2007 Dainipponjin (NC 08)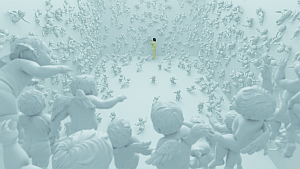 Saturday, April 17, 10:30 p.m. Festival Centre
European premiere
NCA