THE FESTIVAL
PROGRAM
NIPPON CINEMA
CINEMA AWARD
NIPPON DIGITAL
DIGITAL AWARD
NIPPON RETRO
NIPPON CULTURE
TIMETABLE
TICKETS
LOCATIONS
ON TOUR
KIOSK
PRESS
LINKS
CONTACT
ARCHIVE

NEWS
Newsarchive
Newsletter
YouTube


Twitter Updates


Facebook


Nippon-Blog


NIPPON CINEMA
Sawako Decides
(Kawa no soko kara konnichi wa)
by Yuya ISHII
Down on her luck, Sawako is living in Tokyo now for the 5th year, working on her 5th job and her 5th relationship doesn't look too promising. As her father falls ill, she has to take over the family's mussel farming business and confront her past. With deadpan humor and inspiring songs, Yuya ISHII not only creates great comedy, but presents his solution for the economy crisis, too.
Credits:
Japan 2009, 35mm, 112 min, Japanese with English subtitles
Director & writer: Yuya ISHII
Production: Pia Corporation; Tokyo Broadcasting System, Inc.; Avex Entertainment Inc.
Director of photography: Yukihiro OKIMURA
Music: Samon IMAMURA, Chiaki NOMURA
World sales: Pia Film Festival
Cast: Hikari MITSUSHIMA, Masashi ENDO, Kira AIHARA. Kotaro SHIGA, Ryo IWAMATSU
www.kawasoko.com

About the director: Yuya ISHII, born 1983 in the Saitama prefecture, won the Grand Prize at the Pia Film Festival with his movie BARE-ASSED JAPAN as well as a film scholarship which he used to make SAWAKO DECIDES. It is his first feature film after graduating from the Nihon University in Tokio.
Filmography: 2005 Bare-Assed Japan; 2006 Rebel, Jiro's Love; 2007 Of Monster Mode / Girl Sparks; 2009 To Walk Beside You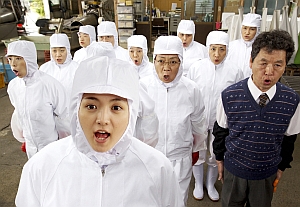 Sunday, April 18, 7:45 p.m. Festival Centre
(incl. Award Ceremony: Nippon Cinema Award and Nippon Digital Award)