THE FESTIVAL
PROGRAM
NIPPON CINEMA
CINEMA AWARD
NIPPON DIGITAL
DIGITAL AWARD
NIPPON RETRO
NIPPON CULTURE
TIMETABLE
TICKETS
LOCATIONS
ON TOUR
KIOSK
PRESS
LINKS
CONTACT
ARCHIVE

NEWS
Newsarchive
Newsletter
YouTube


Twitter Updates


Facebook


Nippon-Blog


NIPPON CINEMA
Oh, My Buddha!
(Shikisoku zenereishon)
by Tomorowo TAGUCHI
Jun, a first-year student at an all-boys Buddhist high school takes his teenage-life easy. He is a big fan of Bob Dylan, writes his own songs and all he´s got in mind for the summer is "free sex". Together with some friends he travels to the island of "free love" where his dreams come true. This humorous semiautobiographical comingofage story from Jun MIURA is Tomorowo TAGUCHI´s second work as a director.
Credits:
Japan 2008, 35mm, 114 min, Japanese with English subtitles
Director: Tomorowo TAGUCHI
Writer: Kosuke MUKAI based on a novel by Jun MIURA
Production: stylejam, inc.
Music: Yoshihide OTOMO
World sales: pictures dept.
Cast: Daichi WATANABE, Kazunobu MINETA, Shigeru KISHIDA, Chiemi HORI, Lily Franky
About the director: Tomorowo TAGUCHI, born in 1957 in Tokio, began his career as illustrator and musician. Today he is one of the most sought after actors in Japan (he appeared in e.g. TETSUO, THE EEK, GOHATTO). In 2003 he made his directing debut with IDEN & TITY.
Filmography: 2003 Iden & Tity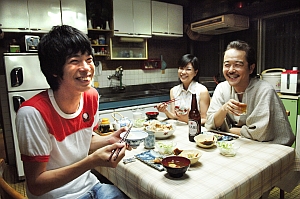 Thursday, April 15, 7:45 p.m. Festival Centre
Friday, April 16, 5:30 p.m. Cinema Orfeo's Erben
European premiere in the presence of the director
NCA
[Tickets] | [Timetable, April 15 ]
[Tickets] | [Timetable, April 16 ]