THE FESTIVAL
PROGRAM
NIPPON CINEMA
CINEMA AWARD
NIPPON DIGITAL
DIGITAL AWARD
NIPPON RETRO
NIPPON CULTURE
TIMETABLE
TICKETS
LOCATIONS
ON TOUR
KIOSK
PRESS
LINKS
CONTACT
ARCHIVE

NEWS
Newsarchive
Newsletter
YouTube


Twitter Updates


Facebook


Nippon-Blog


NIPPON CINEMA
Crows Zero II
by Takashi MIIKE
Rivalling teengangs are giving their best to kill each other in this over the top action flick by enfant terrible Takashi MIIKE. The director of AUDITION delivers us too many climaxes, too much testosteron, too much violence and 27 minutes of nonstop fighting
in the schoolyard. He gives us too much of everything. And that's why we adore MIIKE.
Credits:
Japan 2009, 35 mm, 133 min, Japanese with English subtitles
Director: Takashi MIIKE
Writers: Shogo MUTO, Rikiya MIZUSHIMA nach einem Manga von Hiroshi TAKAHASHI
Production: Akita Publishing
Director of photography: Noboyasu KITA
Music: Naoki OTSUBO
World sales: TBS
Cast: Shun OGURI, Takayuki YAMADA, Kyosuke YABE, Meisa KUROKI, Nobuaki KANEKO
About the director: Takashi MIIKe, born in 1960 in Osaka, began his film career working as an assistant director for (among others) Shoei IMAMURA. He is the hyperactive workaholic of the Japanese film. In 1999 he produced the acupuncture shocker AUDITION. Since then he has made up to seven movies a year.
Filmography (selection): 1996 Fudoh: The New Generation; 1998 The Bird People in China; 1999 Audition / Dead or Alive; 2000 The City of Lost Souls (NC 02) / Dead or Alive 2; 2001 Visitor Q / Ichi the Killer (NC 02) / Happiness of the Katakuris (NC 03); 2003 Gozu / One Missed Call; 2004 Zebraman; 2007 Crows Zero; 2009 Yatterman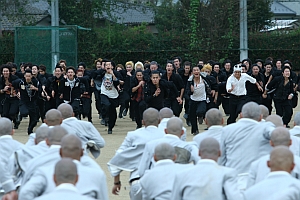 Thursday, April 15, 10:15 p.m. Festival Centre
Friday, April 16, 10 p.m. Cinema Orfeo's Erben
[Tickets] | [Timetable, April 15 ]
[Tickets] | [Timetable, April 16 ]